Keeping your Bird Baths clean and safe for your birds is important any time of the year.
Birds need a clean source of water year round for drinking, for bathing and, at this time of year, for cooling off. If you have a birdbath in your yard, you probably find that it even attracts birds that don't generally come to your feeders like Robins and Mockingbirds. Birdbaths come in many styles and can be made of concrete, pottery, ceramic, resin, stone, plastic, metal and glass. All these surfaces are aesthetically different from each other, but no matter which you prefer, they will all allow algae to grow when the weather gets hot.
Because birds clean themselves and defecate in baths, the water needs to be refreshed and cleaned often. We recommend scrubbing the bowl with hot water and dish detergent such as Dawn. If algae is present, it's best clean the bowl with a mixture of one part bleach to 10 parts water. Always rinse the bath well afterwards to remove any soap/bleach residue.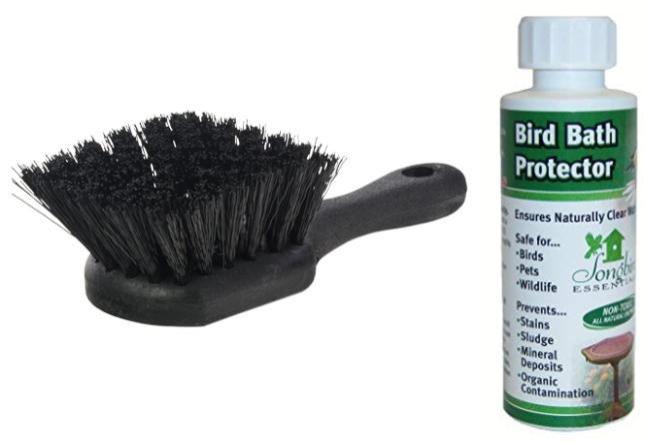 If your bath has a smooth surface such as glass, metal or glazed ceramic, you can easily clean it with a soft cloth or sponge. If your bath has a porous surface, we recommend using a sturdy plastic brush with plastic bristles to provide a more thorough cleaning. We suggest a sturdy plastic brush because over time and many cleanings plastic holds up better than wood. Here at the store we carry the WBU EcoTough Scrubber Brush, which is extremely durable and environmentally friendly. It's made from 100% recycled materials.
To keep your birdbath fresh in between cleanings, we suggest trying liquid Bird Bath Protector, which we also sell here at the store. Bird Bath Protector uses all-natural enzymes to clean and clarify the water. It helps prevent stains and the build up of mineral deposits, sludge and organic contamination. It is safe for birds, pets and wildlife.